Practical Photography Interview, March 2020 issue
When curiosity got the better of strict vegetarian Thomas Kast, Macao's 'fresh food' emporium proved a challenge on every level.
Read more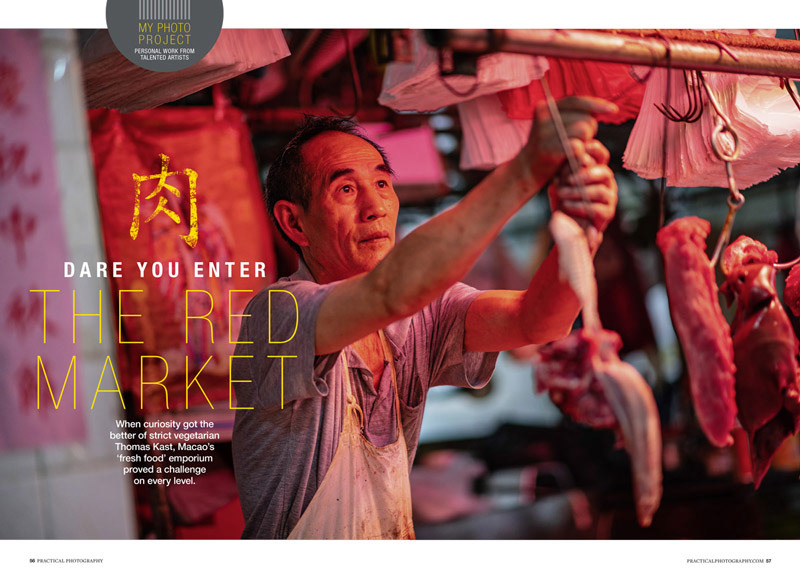 Red Market art book
The Red Market digital art book is now available on 
Apple Books
 and
Google Play
. Enjoy the full account detailing my journey into the astounding place where horror and beauty coexist side by side. Over 60 high-quality images, 50 of those exclusive.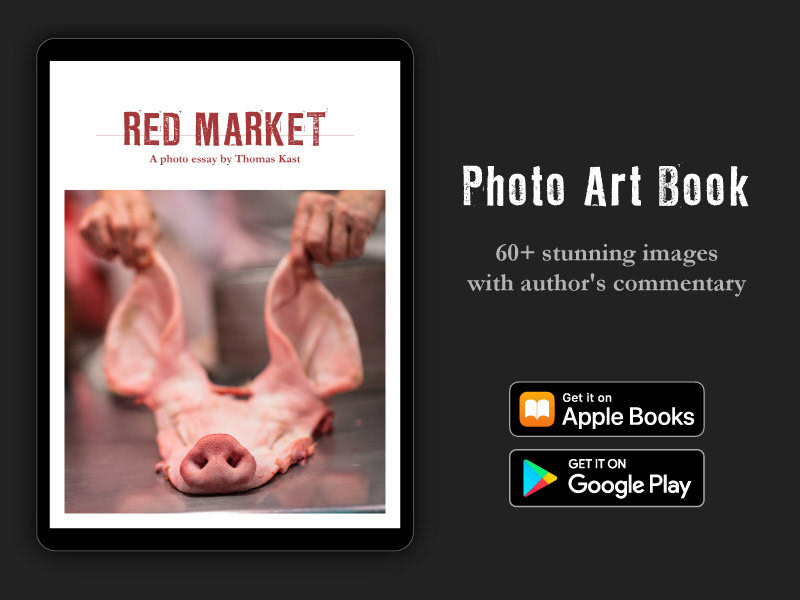 Photo of the Year 2018: Wanderlust Competition
"This shot has a wonderful sense of movement, with the other figures practically 'flowing' around the rabbi, who is positioned perfectly in the frame. A thoughtful, thought-provoking image with an almost painterly feel about it."
Thomas Kast's Paintings Are Dark Hermetic Parables
Thomas Kast's paintings are dark parables, each picture an attempt to articulate the contemporary human condition through symbols and metaphors, allegorical scenarios that seek a truth, a key to unlock the mystery of our existence. 
read more
Pinturas de Thomas Kast
O artista polonês Thomas Kast tenta ilustrar a condição humana, através da utilização de metáforas visuais. Grande admirador de alemães expressionistas e traz a influência da Pop Art para suas pinturas sombrias. 
read more
NordArt 2014
Der Norden mag manchmal rau erscheinen, aber er hat Charme. Kaum ein Ausstellungsort bringt diese einmalige Atmosphäre so auf den Punkt wie die ehemalige Eisengießerei der Carlshütte. Die in Büdelsdorf angesiedelte Carlshütte ist nicht nur ein beeindruckendes Industriedenkmal, sondern bietet ein ungewöhnliches Ambiente für Kulturveranstaltungen aller Art. 
read more
NordArt 2014
Born in Poland. Graduated from Wrocław Academy of Fine Arts (MA), and Katowice Academy of Fine Arts (PhD in applied arts), Poland. Exhibited in Poland, Israel and the USA. Thomas Kast lives and works in Zurich, Switzerland. 
read more...
Thomas Kast – Modern figurative art
I attempt to illustrate the condition of the present-day humanity in a form of a parable. Inspired by the hermetic art of the XV and XVI century, I employ metaphorical visual language, that is idiosyncratic of the world we live in. 
read more